Product Description
667h pintle chains, 667 chain, 662 chain, 88 chain and so on were originally developed for the agricultural implement industry. The original sizes were developed to run on the same sprockets as their detachable chain counterparts of ANSI B29.6. In later years, sizes were developed to accommodate industrial applications. Open Barrel Steel Pintle Chains are recommended as conveyor chains for a wide range of applications such as spreaders, feeder systems, hay handling equipment and spray box, and in limited use, as power transmission chains. These chains can be applied in the smudgy environment.
The items available:
1)D205
2)662
3)662H
4)667X
5)667XH
6)D667K
7)667H
8)667J
9)88K
10)D88C
More than 20 years advanced technology and experience of us will give strong support for the pintle chain you need. We will understand your need of product quickly, and give quick respond and good service. A lot of cases of our products will show you that it worth your trust.
Under the full quality control system, our products go through the precise product line and strict testing process. We have excellent working flow and standard to ensure stability, products reliable enough for using.
Take our scale economy, raw material superiority, and CHINAMFG for clients to account, our price do have a great competitiveness. They are good value and cost effective than your imagine.
We sincerely hope establishing long and friendly business relations with clients from all over the world. Our goal is not just providing product, but also providing a complete solution including product design, tooling, fabrication and service for our customers to achieve their upmost satisfaction.
| | |
| --- | --- |
| Material | Alloy steel, Carbon steel |
| Process | Assembled |
| Heat treatment | Case hardening, Meshbeltfurnace quenching heat treatment |
| Surface treatment | Blackened, Zinc galvanized, Nickel galvanized, Chroming, Colour Painting, or as per customer's request |
| Performance | High precision, high wear resistance, low noise, smooth and steady, high strength |
| Model number | D205,662, 667K,667KC, 667H, 667J,667X,667XC,667XH, D-88K |
| Packaging | Plastic bag ,carton box ,plywood case or customer requirement. |
| | |
| --- | --- |
| Material: | Alloy/Carbon Steel |
| Structure: | Leaf Chain |
| Surface Treatment: | Oxygenation |
| Chain Size: | 1/2"*11/128" |
| Feature: | Heat Resistant |
| Usage: | Transmission Chain, Transportation Chain, Dedica |
Samples:

US$ 60/Piece

1 Piece(Min.Order)

|
Request Sample
Customization:

Available

|

Customized Request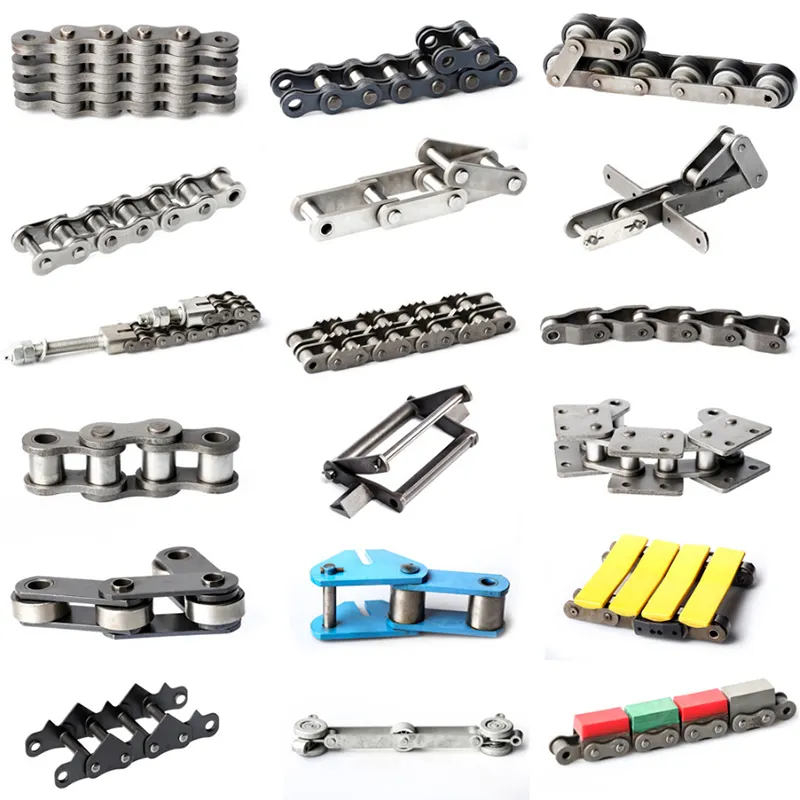 How do pintle chains handle shock loads and dynamic forces?
Pintle chains are designed to handle shock loads and dynamic forces common in industrial applications. Here's a more detailed explanation:
Robust Construction:
Pintle chains are built with robust materials and construction, typically using hardened alloy steel. This construction provides the chain with the strength and durability needed to withstand shock loads and dynamic forces.
Flexible Design:
Pintle chains have a flexible design with open barrels, allowing for greater articulation between the chain's components. This flexibility helps the chain absorb shock loads and adjust to dynamic forces, reducing stress on the chain and its attachments.
High Tensile Strength:
Pintle chains have high tensile strength, which enables them to resist breaking or elongation under heavy loads or sudden impacts. The chain's strength is a crucial factor in its ability to handle shock loads without failure.
Superior Load Distribution:
As the chain articulates, the load is distributed across multiple points, preventing concentrated stress on individual components. This load distribution capability helps prevent premature wear and failure due to shock loads.
Well-Designed Attachments:
The attachments of pintle chains are designed to securely hold the product being conveyed while maintaining flexibility. This design prevents products from becoming dislodged or damaged during shock events.
Proper Lubrication:
Regular and proper lubrication is essential for pintle chains to reduce friction and wear, especially during shock loads. Adequate lubrication ensures smoother articulation and reduces the impact of dynamic forces on the chain.
Regular Inspections:
Frequent inspections help identify signs of wear or damage caused by shock loads. Regular maintenance allows for timely replacement of worn or damaged components, ensuring the chain's optimal performance and reliability.
Conclusion:
Pintle chains are engineered to handle shock loads and dynamic forces through their robust construction, flexible design, high tensile strength, load distribution capabilities, well-designed attachments, and proper lubrication. Regular maintenance and inspections are crucial to preserving the chain's integrity and performance in the face of demanding industrial conditions.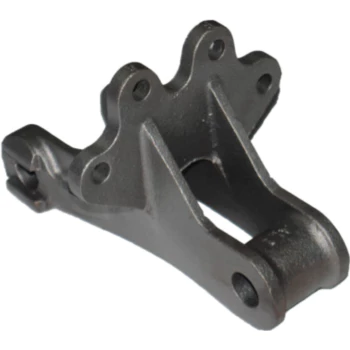 How do pintle chains perform in dusty or dirty environments?
Pintle chains are well-suited for use in dusty or dirty environments due to their robust design and construction. They can perform effectively in such conditions, provided that proper maintenance and precautions are taken. Here are some key points about how pintle chains handle dusty or dirty environments:
Resilient Design: Pintle chains are designed with sturdy pins and link plates, which make them more resistant to debris and contaminants. The chain's construction allows it to handle heavy loads and abrasive particles present in dusty environments.
Self-Cleaning: The open design of pintle chains allows for some self-cleaning action. As the chain moves, it can dislodge and shed some of the dirt and debris that may accumulate between the links.
Regular Maintenance: Proper and regular maintenance is essential to ensure optimal performance in dusty or dirty environments. Periodic cleaning and lubrication help prevent excessive wear and the buildup of debris that could hinder the chain's operation.
Chain Guards and Covers: In particularly harsh or dusty environments, it may be beneficial to use chain guards or covers to protect the pintle chain from direct exposure to contaminants. These guards can help extend the chain's lifespan and reduce maintenance requirements.
Material Selection: Choosing the right material for the pintle chain is crucial in dusty or dirty environments. Stainless steel and other corrosion-resistant materials are often preferred to ensure the chain's longevity and resistance to contaminants.
By following proper maintenance practices and using the appropriate chain material, pintle chains can reliably perform in dusty or dirty environments. However, it is essential to regularly inspect the chain's condition and take corrective actions to prevent premature wear and maintain smooth operation.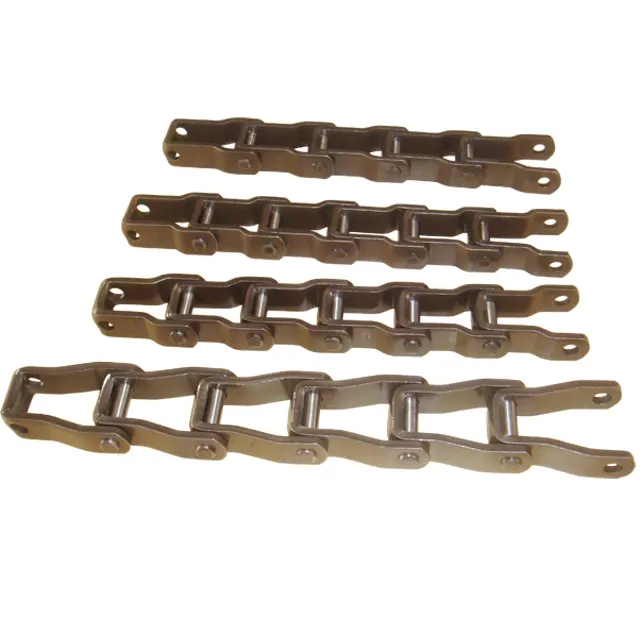 Can pintle chains handle heavy loads and provide reliable performance?
Yes, pintle chains are designed to handle heavy loads and provide reliable performance in various industrial applications. Here's a more detailed explanation:
Pintle Chain Design: Pintle chains are constructed with robust materials and extended pins (pintles) that protrude from the roller link plates. This design allows for better load distribution and increased strength, making them suitable for heavy-duty applications.
Material Strength: Pintle chains are typically made from high-quality carbon steel or stainless steel, which enhances their tensile strength and resistance to wear and fatigue. These materials can withstand the stress and forces associated with heavy loads.
Link Plate Design: The link plates of pintle chains are usually thicker and more substantial compared to standard roller chains. This additional thickness enhances the chain's ability to handle heavier loads without deformation or failure.
Extended Pins: The extended pintles in pintle chains provide a positive engagement with sprockets, minimizing the risk of slippage and ensuring a reliable drive even under heavy loads.
Applications: Pintle chains are commonly used in industries like agriculture, mining, construction, and wood processing, where heavy loads are prevalent. They are employed in various equipment, such as harvesters, conveyors, balers, and more.
Tough Environments: Pintle chains are known for their ability to withstand tough operating conditions, including high impact, abrasive materials, and corrosive environments. This durability ensures reliable performance even in harsh industrial settings.
Maintenance: Proper maintenance, such as regular lubrication and inspection, is essential to ensure the continued reliability and performance of pintle chains under heavy loads.
In summary, pintle chains are well-suited for handling heavy loads and providing reliable performance in a wide range of industrial applications. Their sturdy construction, extended pins, and high-quality materials contribute to their ability to withstand heavy loads and operate consistently under challenging conditions.



editor by CX 2023-10-11