Product Description
Steel Pintle Conveyor Chain (667J)
Model: 662,667X,667H,667J,667K,88K,D205,662H,667HX,D88C
Pack Detail:
Company Detail:
Choose TAI
1. TAI with sophisticated CNC equipment, advanced technology and perfect inspection equipment produce all kinds of chains, sprockets and other transmission equipments which can make the customers' trust. The company since its establishment has passed ISO9001 and other certifications.
2. "High quality, high benefit, high standards" to sing more integrated into the world. Adhering to the "good faith service to customers" purposes, from being in order to after-sales service, each bit closely link, TAI will provide the most intimate, comprehensive service.
3. "Meet the customers' requirement, until customers' satisfaction" is our goal from start to finish, better innovation and better cooperation can create better TAI to service the world. Let us work together, to create a better future with each other.
Welcome contact for more details.
 
Chain No
Pitch
Ultimate tensile strength
Weight
mm
KN
kg/m
205
31.75
12.5
0.58
662
42.27
37.8
1.6
667X
57.15
66.7
3.13
667H
58.75
42.26
1.7
667J
57.15
62.28
2.7
667K
57.15
108.99
3.94
667XH
57.15
124.6
4.48
88K
66.27
108.99
3.91
308C
78.11
222.42
9.8
| | |
| --- | --- |
| Material: | Carbon Steel |
| Structure: | Welded Chain |
| Surface Treatment: | Polishing |
| Chain Size: | 1/2"*3/32" |
| Feature: | Heat Resistant |
| Pitch: | 57.15mm |
Customization:

Available

|

Customized Request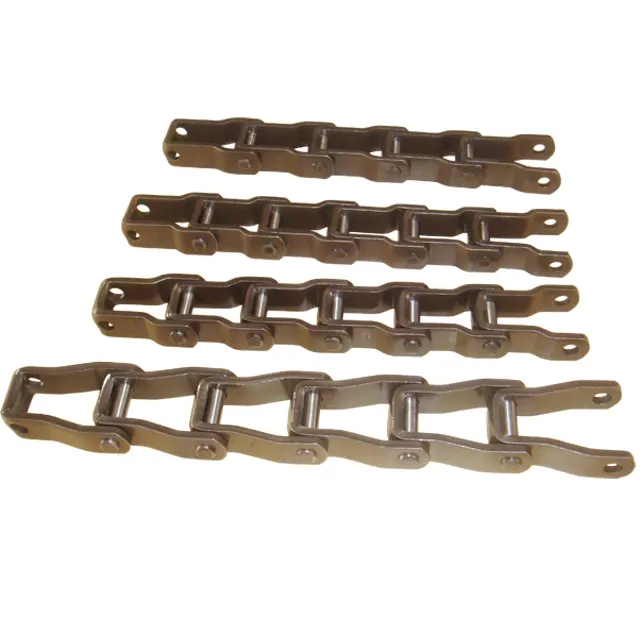 What are the noise and vibration characteristics of pintle chains?
Pintle chains generally exhibit low noise and vibration characteristics when properly maintained and operated within their recommended specifications. Here's a detailed explanation of their noise and vibration characteristics:
Noise Characteristics:
Pintle chains are designed with interlocking link plates and pins, which help reduce noise during operation. The engagement between the chain and the sprockets is smooth, minimizing the impact and noise generation. Additionally, the use of suitable lubrication can further reduce noise levels.
However, it's important to note that improper maintenance, such as lack of lubrication or worn-out components, can lead to increased noise levels. Regular inspection, lubrication, and replacement of worn parts are essential to keep noise levels in check.
Vibration Characteristics:
Pintle chains generally transmit minimal vibration during operation. The precision engineering and smooth movement of the chain components contribute to reduced vibration. Additionally, the use of high-quality materials and well-maintained chain systems can further minimize vibration.
Excessive vibration in pintle chains can occur if the chain is misaligned, worn, or not tensioned correctly. Regular maintenance and alignment checks are necessary to ensure optimal performance and to prevent increased vibration levels.
Applications:
Pintle chains with low noise and vibration characteristics are suitable for various industries, including material handling, forestry, agriculture, and more. In applications where noise reduction is crucial, such as in indoor environments or noise-sensitive areas, proper chain maintenance and lubrication become even more important.
Overall, pintle chains are known for their relatively quiet and smooth operation when maintained properly. Ensuring correct installation, adequate lubrication, and regular maintenance will help to maintain the desired noise and vibration characteristics, promoting efficient and reliable chain performance.
What are the limitations of using pintle chains in certain applications?
Pintle chains, while versatile and suitable for many industrial applications, do have some limitations that may affect their use in certain situations. These limitations include:
Speed: Pintle chains are not ideal for high-speed applications. Their design and construction may limit the maximum speed they can operate at without experiencing excessive wear and fatigue.
Precision: Pintle chains may not provide the same level of precision as other types of conveyor chains. In applications where precise positioning or indexing is critical, pintle chains might not be the best choice.
Noise and Vibration: Pintle chains can produce more noise and vibration compared to other types of chains, which could be a concern in applications requiring quiet and smooth operation.
Wear: While pintle chains are designed to be durable, they may experience more wear in certain conditions, such as when handling abrasive materials or operating in dirty and harsh environments.
Complexity: Pintle chains have a more intricate design compared to standard roller chains, which can make them harder to assemble and disassemble, potentially increasing maintenance time and costs.
Chemical Exposure: Pintle chains made of certain materials may not be suitable for applications involving exposure to aggressive chemicals or corrosive substances.
Despite these limitations, pintle chains remain a popular choice for many industrial applications due to their strength, durability, and versatility. It's essential to carefully consider the specific requirements of the application and assess whether the characteristics of pintle chains align with the operational demands.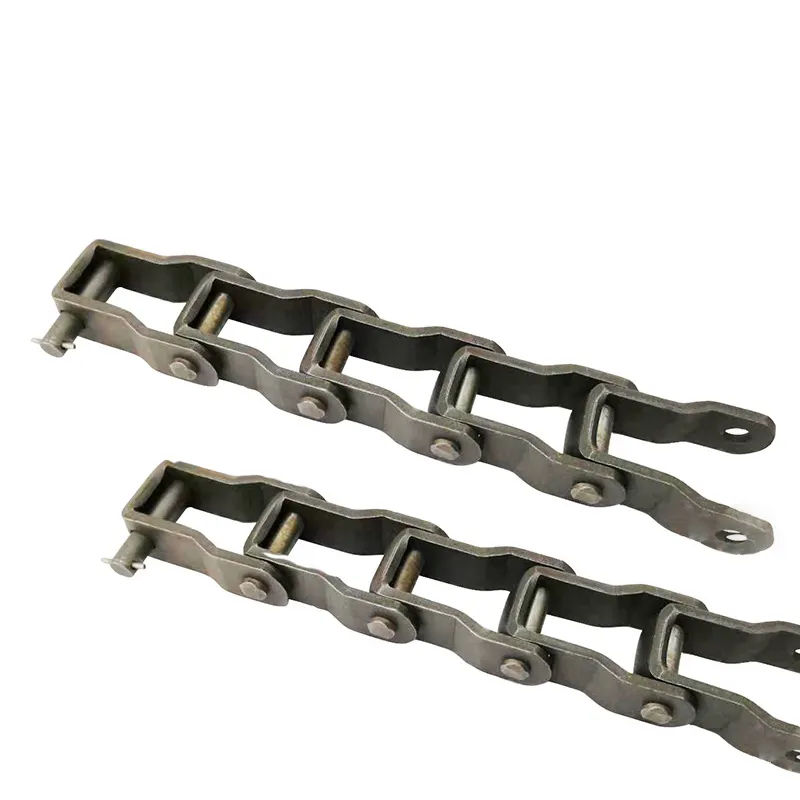 Can pintle chains be used in high-temperature environments?
Yes, pintle chains can be used in high-temperature environments, but the specific temperature range they can withstand depends on the material they are made of. Here's a more detailed explanation:
Material Selection: Pintle chains are available in various materials, including carbon steel, stainless steel, alloy steel, and plastic. Each material has its temperature limits:
Carbon Steel: Standard carbon steel pintle chains have a temperature range of around 150°C to 400°C (302°F to 752°F). They may lose some strength at higher temperatures and may not be suitable for extremely high-temperature applications.
Stainless Steel: Stainless steel pintle chains offer better heat resistance and can handle temperatures ranging from approximately 200°C to 600°C (392°F to 1112°F). The exact temperature range depends on the specific grade of stainless steel used.
Alloy Steel: Alloy steel pintle chains may have higher temperature capabilities compared to standard carbon steel chains, but the temperature range can vary based on the specific alloy composition.
Plastic: Plastic pintle chains, especially those made from high-temperature engineering plastics, can handle temperatures up to around 250°C (482°F) and are suitable for some high-temperature applications.
Application Considerations: When using pintle chains in high-temperature environments, it's essential to consider other factors as well:
Lubrication: High temperatures can accelerate chain wear, so proper lubrication is crucial to reduce friction and wear. Choose lubricants that can withstand the operating temperature.
Thermal Expansion: Materials can expand at high temperatures, so account for thermal expansion in the design of the chain and system.
Application Limitations: Even with suitable materials, there may be limitations on the application's speed, load capacity, and continuous operation time at high temperatures. Consult the manufacturer's documentation for specific temperature-related limitations.
Conclusion: Pintle chains made from appropriate materials, such as stainless steel or high-temperature plastics, can be used in high-temperature environments. It's essential to select the right material and consider other factors like lubrication and thermal expansion to ensure the pintle chain performs reliably and safely in these conditions.



editor by CX 2023-08-09