Product Description
We can supply the 667J pintle chain
1. Pintle chain or special chain produced as per standard or your drawing by CNC machine
2. Material: 40Mn steel, alloy steel
Our pintle chain, steel pintle chain, Pintle chain D205, steel pintle chain 662, steel pintle chain 667H, Pintle chain 667X, Pintle chain 667XH, steel pintle chain 88k, conveyor line chain or other conveyor chain, special chain as per your drawing or your samples is high quality by CNC machine
We can weld the steel bar for you as per your drawing
Our chain is used in conveyor garbage
We have many year's experience in producing special big size chain for ceramic factory, mill factory, car factory, steel factory and so on
We can adjust the material of each parts as per your special requests
More than 20 years advanced technology and experience of us will give strong support for the pintle chain you need. We will understand your need of product quickly, and give quick respond and good service. A lot of cases of our products will show you that it worth your trust.
Under the full quality control system, our products go through the precise product line and strict testing process. We have excellent working flow and standard to ensure stability, products reliable enough for using.
Take our scale economy, raw material superiority, and CHINAMFG for clients to account, our price do have a great competitiveness. They are good value and cost effective than your imagine.
We sincerely hope establishing long and friendly business relations with clients from all over the world. Our goal is not just providing product, but also providing a complete solution including product design, tooling, fabrication and service for our customers to achieve their upmost satisfaction.
| | |
| --- | --- |
| Material | Alloy steel, Carbon steel |
| Process | Assembled |
| Heat treatment | Case hardening, Meshbeltfurnace quenching heat treatment |
| Surface treatment | Blackened, Zinc galvanized, Nickel galvanized, Chroming, Colour Painting, or as per customer's request |
| Performance | High precision, high wear resistance, low noise, smooth and steady, high strength |
| Model number | D205,662, 667K,667KC, 667H, 667J,667X,667XC,667XH, D-88K |
| Packaging | Plastic bag ,carton box ,plywood case or customer requirement. |
| | |
| --- | --- |
| Usage: | Transmission Chain, Drag Chain, Dedicated Special Chain |
| Material: | Alloy |
| Surface Treatment: | Polishing |
| Feature: | Heat Resistant |
| Chain Size: | 1/2"*3/32" |
| Structure: | Welded Chain |
Samples:

US$ 60/Piece

1 Piece(Min.Order)

|
Request Sample
Customization:

Available

|

Customized Request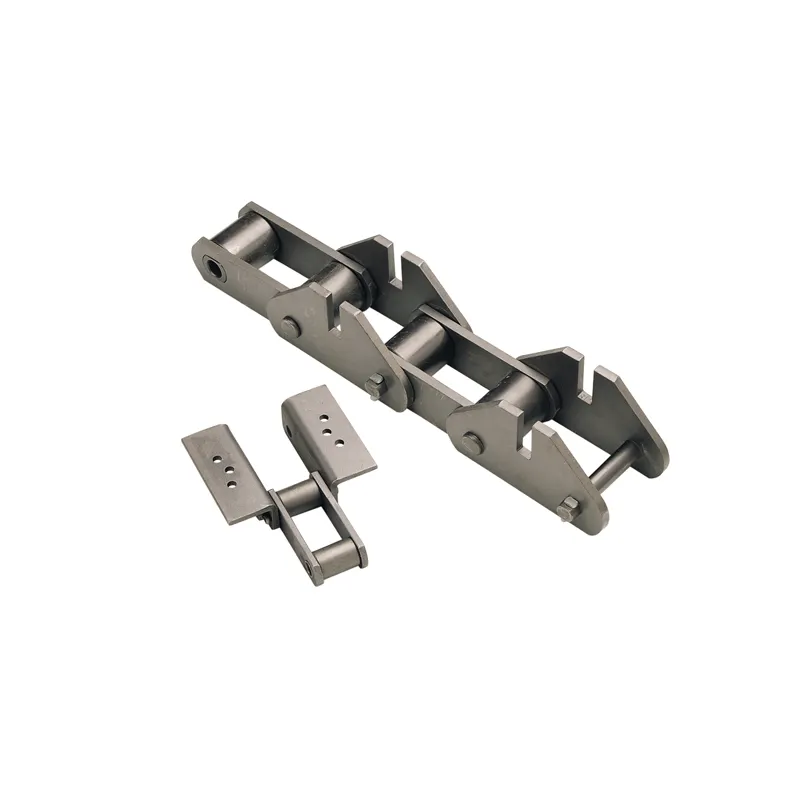 What are the common industries that utilize pintle chains?
Pintle chains find extensive usage in various industrial sectors due to their durability, strength, and versatility. Below are some of the common industries that utilize pintle chains:
1. Agriculture:
Pintle chains are commonly used in agricultural equipment, such as combines, harvesters, and balers. They assist in conveying and processing crops and agricultural materials efficiently.
2. Construction:
In the construction industry, pintle chains are employed in heavy-duty equipment like excavators, bulldozers, and loaders to move and handle construction materials and debris.
3. Forestry:
Pintle chains are utilized in forestry equipment, such as chainsaws and log debarkers, to handle timber and wood processing tasks.
4. Material Handling:
Pintle chains are widely used in material handling equipment and conveyor systems, facilitating the movement of goods and products in warehouses and distribution centers.
5. Mining:
In the mining industry, pintle chains are employed in mining machinery to transport heavy loads of ores and minerals from extraction points to processing areas.
6. Automotive:
Pintle chains are found in automotive assembly lines, providing reliable and efficient transportation of car parts during the manufacturing process.
7. Recycling:
In recycling facilities, pintle chains are used in recycling equipment to process and handle various types of recyclable materials.
8. Food Processing:
Pintle chains are utilized in food processing equipment, especially in applications where robust and hygienic conveyance of food products is essential.
9. Pulp and Paper:
Pintle chains are employed in pulp and paper mills to transport wood chips, pulp, and paper rolls during the manufacturing process.
10. Packaging:
In the packaging industry, pintle chains are utilized in packaging machines and palletizers to handle and transport packaged goods efficiently.
11. Bottling and Beverage:
Pintle chains are used in bottling and beverage production lines to convey bottles and cans during the filling and packaging process.
12. Aerospace:
In the aerospace industry, pintle chains find application in manufacturing processes, moving components and parts through various stages of assembly.
13. Energy:
Pintle chains are used in energy generation facilities, such as power plants, to handle and transport fuel materials.
14. Chemical:
In chemical processing plants, pintle chains are employed in equipment to handle and convey various chemicals and raw materials.
15. Pharmaceuticals:
Pintle chains are used in pharmaceutical manufacturing and processing equipment, ensuring efficient and reliable movement of medications and products.
Overall, pintle chains are essential components in a wide range of industries, enabling efficient material handling, transportation, and processing tasks. Their robust design and reliable performance make them a preferred choice in many industrial applications.
Can pintle chains be used in automotive manufacturing and assembly lines?
Yes, pintle chains can be used in automotive manufacturing and assembly lines for various applications. The automotive industry requires robust and reliable conveyor systems to handle the assembly of car components efficiently. Pintle chains offer several advantages that make them suitable for these demanding applications:
Heavy-Duty Performance: Pintle chains are designed to handle heavy loads and provide reliable performance, making them ideal for carrying automotive components along the assembly line.
High Tensile Strength: These chains have high tensile strength, which allows them to withstand the stress and pressure of conveying car parts through the production process.
Flexibility: Pintle chains are flexible, allowing them to navigate around corners and accommodate complex conveyor layouts commonly found in automotive assembly lines.
Durability: Automotive manufacturing involves continuous operation, and pintle chains' durable construction can withstand the wear and tear of repetitive motion.
Wide Range of Attachments: Pintle chains can be customized with various attachments, such as slats or fixtures, to securely hold and convey different automotive components during the assembly process.
From welding and painting to final assembly, pintle chains play a crucial role in moving car parts along the production line efficiently and precisely. Their ability to handle heavy loads and provide reliable performance makes them an excellent choice for automotive manufacturing and assembly lines.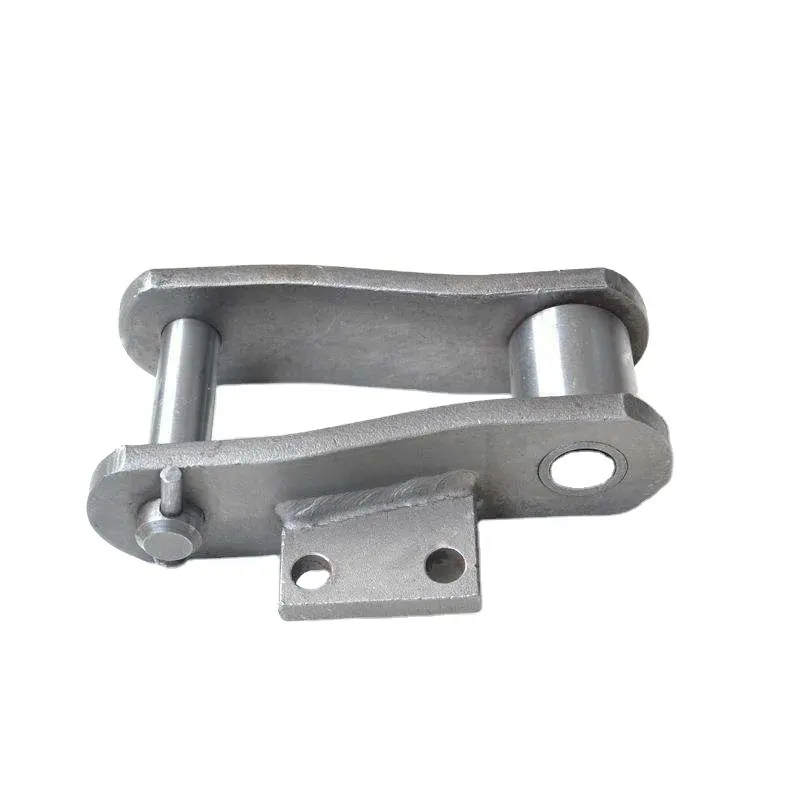 What are the advantages of using a pintle chain in specific industries?
Pintle chains offer several advantages in specific industries due to their unique design and robust construction. Here's a more detailed explanation of the advantages of using a pintle chain in specific industries:
Agriculture: In the agricultural industry, pintle chains are preferred for their ability to handle heavy loads, making them suitable for conveying grains, fertilizers, and other bulk materials. They are commonly used in equipment such as harvesters, balers, and spreaders.
Mining and Construction: Pintle chains excel in the mining and construction industries where heavy-duty conveying is essential. They can withstand tough conditions and handle materials like coal, ores, and aggregates with ease.
Wood Processing: Pintle chains are well-suited for the wood processing industry, particularly in sawmills and lumber handling. They can efficiently transport logs and lumber through various stages of processing.
Wastewater Treatment: In wastewater treatment plants, pintle chains are used for applications like sludge handling and dewatering due to their rugged design and resistance to corrosion.
Forging and Heat Treatment: Pintle chains are utilized in industrial ovens and furnaces for forging, heat treatment, and other high-temperature processes. Their durable construction ensures reliable operation in extreme heat.
Oil and Gas: Pintle chains find applications in the oil and gas industry, particularly in oilfield equipment and offshore operations. They can handle the heavy loads and harsh environments associated with these applications.
Marine and Shipping: Pintle chains are used in marine equipment for operations such as anchor handling and ship mooring, where their strength and reliability are critical.
Heavy Machinery: Pintle chains are commonly used in heavy machinery, including tractors, bulldozers, and excavators, where they provide reliable power transmission and material handling capabilities.
In summary, pintle chains offer significant advantages in specific industries where heavy loads, rugged conditions, and reliable operation are paramount. Their unique design and construction make them suitable for handling bulk materials, withstanding tough environments, and providing positive drive mechanisms in various industrial applications.



editor by CX 2023-10-23