Product Description
Steel Pintle Conveyor Chain (667J)
Model: 662,667X,667H,667J,667K,88K,D205,662H,667HX,D88C
Pack Detail:
Company Detail:
Choose TAI
1. TAI with sophisticated CNC equipment, advanced technology and perfect inspection equipment produce all kinds of chains, sprockets and other transmission equipments which can make the customers' trust. The company since its establishment has passed ISO9001 and other certifications.
2. "High quality, high benefit, high standards" to sing more integrated into the world. Adhering to the "good faith service to customers" purposes, from being in order to after-sales service, each bit closely link, TAI will provide the most intimate, comprehensive service.
3. "Meet the customers' requirement, until customers' satisfaction" is our goal from start to finish, better innovation and better cooperation can create better TAI to service the world. Let us work together, to create a better future with each other.
Welcome contact for more details.
 
Chain No
Pitch
Ultimate tensile strength
Weight
mm
KN
kg/m
205
31.75
12.5
0.58
662
42.27
37.8
1.6
667X
57.15
66.7
3.13
667H
58.75
42.26
1.7
667J
57.15
62.28
2.7
667K
57.15
108.99
3.94
667XH
57.15
124.6
4.48
88K
66.27
108.99
3.91
308C
78.11
222.42
9.8
| | |
| --- | --- |
| Material: | Carbon Steel |
| Structure: | Welded Chain |
| Surface Treatment: | Polishing |
| Chain Size: | 1/2"*3/32" |
| Feature: | Heat Resistant |
| Pitch: | 57.15mm |
Customization:

Available

|

Customized Request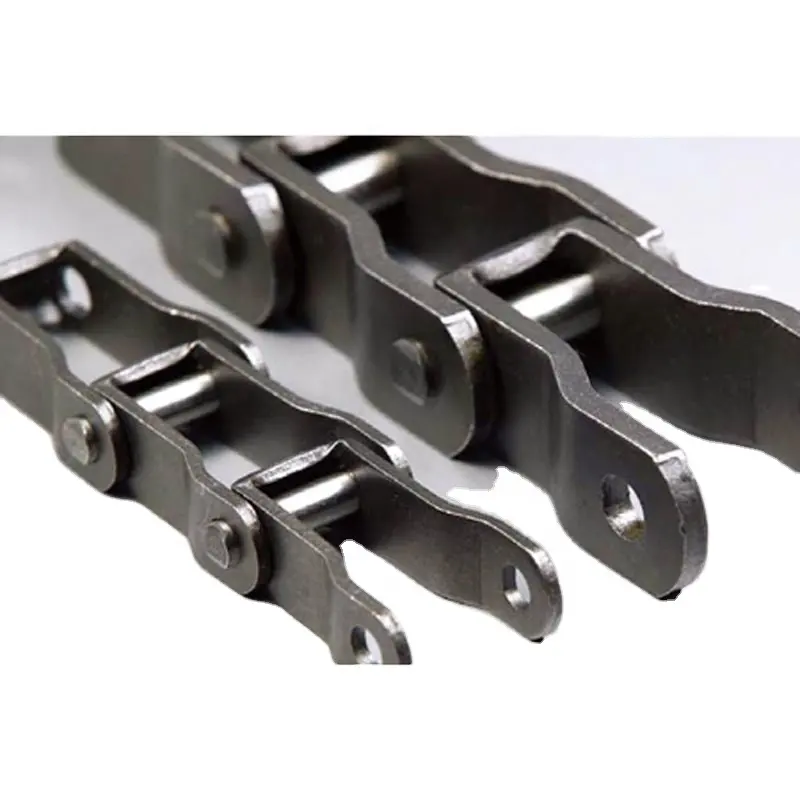 How do pintle chains handle misalignment between sprockets?
Pintle chains are designed to handle a certain degree of misalignment between sprockets, providing some flexibility in their operation. The ability to handle misalignment is essential in many industrial applications, where perfect alignment between sprockets may be challenging to maintain due to various factors.
Flexibility and Articulation:
Pintle chains are constructed with interlocking link plates and pins, which allow for some articulation between the chain links. This design enables the chain to bend and flex as it moves around the sprockets, accommodating slight misalignments without causing undue stress on the chain.
Compensating for Misalignment:
When pintle chains encounter misalignment between sprockets, they can adjust their shape slightly to compensate for the deviation. This feature helps to reduce wear on the chain, sprockets, and other components of the power transmission system.
Tolerance Limits:
However, it's essential to note that pintle chains have specific tolerance limits for misalignment. Excessive misalignment beyond these limits can lead to premature wear and failure of the chain. Therefore, proper alignment during installation and regular maintenance to check for alignment issues are necessary to ensure optimal performance and longevity of the chain.
Guidelines for Proper Alignment:
To achieve the best performance and avoid premature wear, consider the following guidelines for proper chain alignment:
Make sure sprockets are precisely aligned on their respective shafts.
Check that the shafts supporting the sprockets are parallel and at the correct distance apart.
Use appropriate tools and measurements to verify sprocket alignment during installation.
Regularly inspect and adjust sprocket alignment if misalignment issues arise during operation.
Benefits of Proper Alignment:
Properly aligned pintle chains offer several benefits:
Reduced Wear: Proper alignment minimizes wear on the chain and sprockets, increasing their lifespan.
Smooth Operation: Optimal alignment ensures smooth and reliable chain movement, reducing the risk of chain jamming or skipping.
Improved Efficiency: Correct alignment contributes to the overall efficiency of the power transmission system, reducing energy losses and improving performance.
In summary, pintle chains can handle some misalignment between sprockets due to their flexible and articulating design. However, maintaining proper alignment within the recommended tolerance limits is crucial for ensuring the longevity and reliable performance of pintle chains in industrial applications.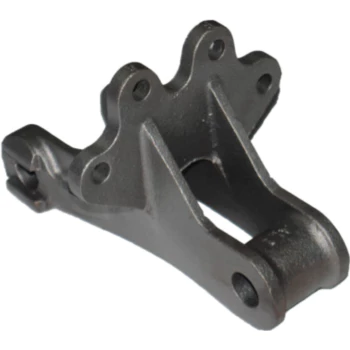 How do pintle chains perform in dusty or dirty environments?
Pintle chains are well-suited for use in dusty or dirty environments due to their robust design and construction. They can perform effectively in such conditions, provided that proper maintenance and precautions are taken. Here are some key points about how pintle chains handle dusty or dirty environments:
Resilient Design: Pintle chains are designed with sturdy pins and link plates, which make them more resistant to debris and contaminants. The chain's construction allows it to handle heavy loads and abrasive particles present in dusty environments.
Self-Cleaning: The open design of pintle chains allows for some self-cleaning action. As the chain moves, it can dislodge and shed some of the dirt and debris that may accumulate between the links.
Regular Maintenance: Proper and regular maintenance is essential to ensure optimal performance in dusty or dirty environments. Periodic cleaning and lubrication help prevent excessive wear and the buildup of debris that could hinder the chain's operation.
Chain Guards and Covers: In particularly harsh or dusty environments, it may be beneficial to use chain guards or covers to protect the pintle chain from direct exposure to contaminants. These guards can help extend the chain's lifespan and reduce maintenance requirements.
Material Selection: Choosing the right material for the pintle chain is crucial in dusty or dirty environments. Stainless steel and other corrosion-resistant materials are often preferred to ensure the chain's longevity and resistance to contaminants.
By following proper maintenance practices and using the appropriate chain material, pintle chains can reliably perform in dusty or dirty environments. However, it is essential to regularly inspect the chain's condition and take corrective actions to prevent premature wear and maintain smooth operation.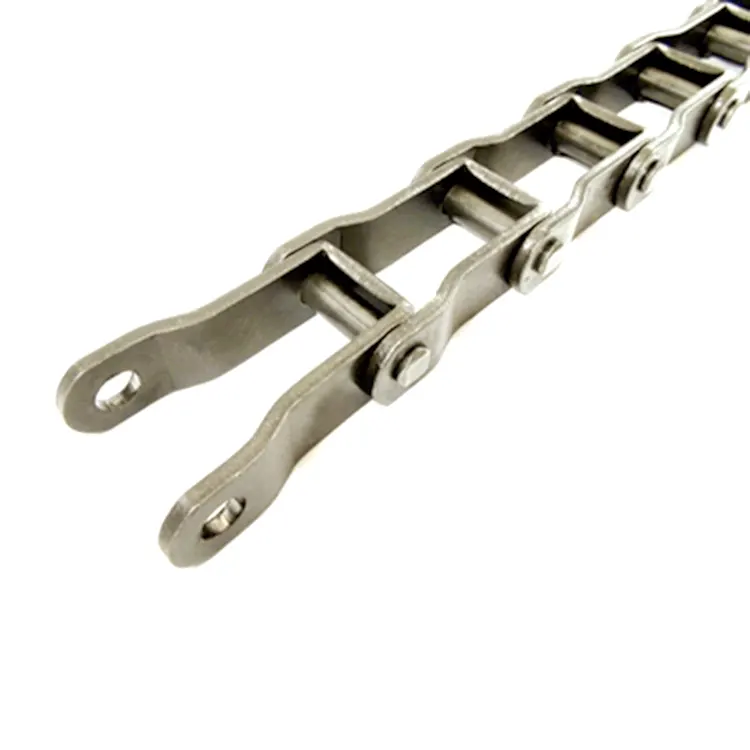 What materials are pintle chains typically made of?
Pintle chains are typically made from high-quality materials to ensure their durability and reliability in heavy-duty industrial applications. Here are the most common materials used to manufacture pintle chains:
Carbon Steel: Carbon steel is the most common material used for pintle chains. It offers excellent strength and toughness, making it suitable for handling heavy loads and withstanding harsh conditions. Carbon steel pintle chains are cost-effective and widely used in various industries.
Stainless Steel: Stainless steel pintle chains are preferred for applications where corrosion resistance is critical. Stainless steel contains chromium, which forms a protective oxide layer on the surface, providing excellent resistance to rust and corrosion. These chains are commonly used in food processing, pharmaceutical, and outdoor applications.
Alloy Steel: Alloy steel pintle chains are formulated with specific alloying elements to enhance their mechanical properties. These chains offer improved strength, toughness, and wear resistance, making them suitable for demanding industrial applications.
Plastic: In some cases, pintle chains are made from plastic materials, such as engineering-grade plastics. Plastic pintle chains are lightweight, corrosion-resistant, and ideal for applications where metal chains may not be suitable, such as in food handling or cleanroom environments.
The choice of material depends on the specific requirements of the application. For heavy-duty applications with high loads and harsh environments, carbon steel or alloy steel pintle chains are commonly used. In environments where corrosion is a concern, stainless steel pintle chains are preferred. Plastic pintle chains are chosen for their non-metallic properties, making them suitable for specific industries and environments.
In summary, pintle chains are available in various materials, including carbon steel, stainless steel, alloy steel, and plastic. Each material offers specific benefits and characteristics to meet the diverse needs of industrial applications.



editor by CX 2023-08-07