Product Description
Standard Double Pitch Conveyor Chain  Double Pitch Pintle Drag Drive Roller Conveyor Sprocket Chain For Food Machine
Product Description
Roller chain or bush roller chain is the type of chain drive most commonly used for transmission of mechanical power on many kinds of domestic, industrial, and agricultural machinery, including conveyors, wire- and tube-drawing machines, printing presses, cars, motorcycles, and bicycles. It consists of a series of short cylindrical rollers held together by side links. It is driven by a toothed wheel called a sprocket. It is a simple, reliable, and efficient means of power transmission. ANSI Standard Short Pitch Power Transmission Roller Chains are the most popular chains for driving, transmission reduction, tension, shuttle traction, and other applications. 
Product Parameters
Transmission chain  (Driving Chain)
Short Pitch Precision Roller Chain (A Series)(1,2,3)
04C-1  06C-1-2-3  085-1-2-3  08A-1-2-3  10A-1-2-3  12A-1-2-3  16A-1-2-3  20A-1-2-3  24A-1-2-3  28A-1-2-3  32A-1-2-3  40A-1-2-3  48A-1-2-3
25 35 35-2 35-3 -2 40-3 50 50-2-50-3 60 60-2 60-3 80 80-2 80-3 100 100-2  100-3 120 120-2 120-3 140 140-2 160 160-2 -2  240
Short Pitch Precision Roller Chain (B Series)(1,2,3)
06B-1-2-3 06B-1-2-3 08B-1-2-3  10B-1-2-3  12B-1-2-3  16B-1-2-3 20B-1-2-3 24B-1-2-3  28B-1-2-3  32B-1-2-3  40B-1-2-3  48B-1-2-3  56B-1-2-3   64B-1-2-3  72B-1-2-3
Heavy Duty Series Roller Chain(1,2)
08AH-1  10AH-1  12AH-1-2-3  16AH-1-2-3  20AH-1-2-3  24AH-1-2-3  28AH-1-2-3  32AH-1-2-3  40AH-1-2-3
Side Bow Chain
40SB 43SB  50SB  60SB  63SB 80SB 08BSB 08BSBY1  10BSB  12BSB  C2050SB
Motorcycle Chain
410  415  415H  420  420H  428  428H  520  520H  525  525H  530  530H  630  630H
Engine Mechanism Chain    (Timing Chain)
CL04
Self-Lubrication Roller Chain
08BSLR  10BSLR 12BSLR 16BSLR 40SLR 50SLR 60SLR 80SLR
Double Pitch Transmission Chain
208A  208B 210A  210B  212A  212B  216A  216B  220A  220B
2040  2050  2060 2080  2100
Bush Chain
P15F-B  P20-B  P25-B  P25F1-B P30F2-B  P36-B  P40-B  P45-B  P50-B P55-B P60-B  P70-B  P80-B
Conveyor Chain
Roller Chain With Straight Side Plates (A Series)
C08A-1-2-3  C10A-1-2-3  C12-1-2-3  C24A-1-2-3  C32A-1-2-3
C35  C40-1-2-3  C50-1-2-3  C80-1-2-3  C100-1-2-3  C120-1-2-3  C140-1-2-3  C160-1-2-3
Roller Chain With Straight Side Plates (B Series)
C08B-1-2-3  C10B-1-2-3  C12B-1-2-3  C16-1-2-3  C20B-1-2-3  C24B-1-2-3  C28B-1-2-3  C32B-1-2-3
Double Pitch Conveyor Chain
C208A  C208AH  C208B C208BL  C210A  C210AL  C212A   C212AH   C212AHL  C216A  C216AL  C216AH  C216AHL  C220A  C220AL  C220AH  C220AHL  C224A  C224AL  C224AH  C224AHL  C232A  C232AL  C232AH  C232AHL
C2050  C2052  C2060  C2062  C2060H  C2080  C2080H  C2082  C2082H C2100  C2100H  C2102  C2102H  C2120  C2120H  C2122  C2122H  C2160  C2160H  C2162  C2162H
Double Pius Speed Chain
BS25-C206B  BS25-C208A  BS25-C210A  BS25-C212A  BS30-C206B  BS30-C208B  BS30-C210B  BS30-C212B
Conveyor Chain (M Series)
M20  M28  M40  M56  M80
Hollow Pin Conveyor Chain (MC Series)
MC28  MC56  MC112  MC224
Conveyor Chain (FV Series)
FV40  FV63  FV90  FV112  FV140
Conveyor Chain (FVT Series)
FVT40  FVT63  FVT90  FVT112  FVT140  FVT180  FVT250  FVT315
Hollow Pin Conveyor Chain (FVC Series)
FVC63  FVC90  FVC112  FVC140  FVC180  FVC250  FVC315
Conveyor Chain (Z Series)
Z40  Z100  Z160  Z300
Conveyor Chain (ZE Series)
ZE40  ZE100  ZE160  ZE300
Hollow Pin Conveyor Chain (ZC Series)
ZC21  ZC40  ZC60  ZC150  ZC300
Hollow Pin Chains
08BHPF  08BHPF5 08BHP9 10BHPF3 10BHPF4 12BHPF2 12BHPF3 16BHPF3  16BHPF4  40HP 08BHPF7  08BHP  50HP  50HPF4  50H-HP  60HP  60HPF1  80HP  80HPF1  80HPF2  80H-HP  80HPF3  80HPF4  HB41.75F5  A2080HP
Welded-type cranked link chains
WR78  WH78  WR82  WH82  WR106  WH106  WR110  WH110  WR111  WH111  WR124  WH124  WR132  WH132  WR150  WH150  WR155  WH155  WR157  WH157  WR78F5  WH78F4  WH124F1  WH111F1
Palm oil Chains
P101.6F2  P152F14  P152F17  P152F29  90R-S  P101.6F64  P76.7  P152F31
Sugar mill chains
DH9063  DH2198  P152F93K2  P152F78K2  DH 0571 0  DH1796  P152F77-AS2  P203.2F9
Rubber gloves carrier chains
P100F155  P100F13   P100F139  P150/90
Lumber conveyor chains
81X  81XH  81XHE  81XHH  81XHS  500R  441.100R
Sharp top chains
08AF34  08BF21  10AF8  41F6  06BF1  06BF37  08AF41  08BF44  08AF8…
Stainless Steel Chain
Stainless Steel Short Pitch Precision Roller Chain(A Series)
25SS-1  35SS-1  41SS-1  40SS-1  50SS-1  60SS-1  80SS-1  100SS-1  120SS-1
Stainless Steel Short Pitch Precision Roller Chain(B Series)
05BSS-1  06BSS-1  08BSS-1  10BSS-1  12BSS-1  16BSS-1  20BSS-1  24BSS-1
Stainless Steel Roller Chain With Straight Side Plates
C40SS-1  C50SS-1  C60SS-1  C80SS-1  C100SS-1  C120SS-1  C08BSS-1  C10BSS-1  C12BSS-1  C16BSS-1  C20BSS-1  C24BSS-1
Stainless Steel Double Pitch Transmission Chain
2040SS  2050SS  2060SS  2080SS  2100SS  2120SS  208BSS  210BSS  212BSS  216BSS  220BSS  224BSS
Stainless Steel Double Pitch Conveyor Chain
C2040SS  C2040HSS  C208BSS  C2050SS  C2060SS  C2060HSS  C2080SS  C2080HSS  C2100SS  C2100HSS C2120SS  C2120HSS
Stainless Steel Hollow Pin Chain
08BHFSS  40HPSS  50HPSS  60HPSS  12BHPSS  80HPSS  C2040HPSS  C2050HPSS  C2060HPSS  C2080HPSS  HB50.8SS
Stainless Steel Double Pitch Hollow Pin Chain
C2042HPSS  C2052HPSS  C2062HPSS  C2082HPSS  C2042H-HPSS  C2052H-HPSS  C2062H-HPSS  C2082H-HPSS
Lifting Chain
Car Parking Chain
12AT-1 16AT-1-2  20AT-1-2-3  24AT-1-2
Leaf Chain
LH0822  LH0823  LH571  LH0844  LH0846  LH 0571   LH1571   LH1571   LH1034   LH1044   LH1046   LH1066   LH1088   LH1222   LH1223  LH1234  LH1244  LH1246  LH1266  LH1288
BL422  BL423  BL434  BL444  BL446  BL466  BL488  BL522  BL523  BL534  BL544  BL546  BL566  BL588  BL622  BL623  BL634  BL644  BL646  BL666  BL688
Multile Plate Bearing Pin Chain
LF30  MP50F2   MP50.8   MP70F1   MP70F2   MP70F3   MP80F1   MP90F1   MP90F2   MP110F1
Rollerless Lift Chain
45-1  55-1  65-1  85-1  105-1  125-1  145-1  165-1
Agricultural Chain
S Type Steel Agricultural Chain & Attachments
S32  S42  S45  S52  S55  S62  S77  S88  A550  A620
C Type Steel Agricultural Chain with Attachments
CA550  CA550/S55  CA555  CA550HD  CA550V  CA557  CA620  CA2801  38.1R  38.4R  38.4V  38.4VB
Rice Harvester Chain
S3558T-48001  S3558T-48002
Drop Forged Chain Series
Drop Forged Rivetless Chain
Imperial: 80H  X348   X458  468H  X658  X678  678  698  998  9118  S348  S458  S678  S698  S9118, Metric system: XT100  XT160
Cast Detachable Chain
55  57  62  74  78
Steel Detachable Chain
25  32  32W  51  52  55  62
Cast Iron Chain
Cast Iron Chain (C Series)
C55  C55L  C77  C188  C188L  C102B  C111  C131  C132
Cast Iron Chain (H Series)
H60  H78  H82  H110
Cast Iron Chain (4 Series)
462  477  488  4103  720  720S  730
Cast Iron Chain BRH188
BRH188  C188CP  C102B-K2  C55A  C55B  C55D  CC600  H78A  H78B  H130  H138  MC33  103  4103F29  907-E51
Welded chains
WR78  WH78  WR82  WH82   WR124  WH124
Forging Hanging Chain
X228  X348  X458  X678  698
Detailed Photos
FAQ
Q: Do you provide samples?
A: Yes. A sample is available for testing.
Q: What's your lead time?
A: Standard products need 5-30days, a bit longer for customized products.
Q: Do you provide technical support?
A: Yes. Our company has a design and development team, and we can provide technical support if you
need.
Q: How to ship to us?
A: It is available by air, sea, or train.
Q: How to pay the money?
A: T/T and L/C are preferred, with different currencies, including USD, EUR, RMB, etc.
Q: How can I know if the product is suitable for me?
A: >1ST confirm drawing and specification >2nd test sample >3rd start mass production.
Q: Can I come to your company to visit?
A: Yes, you are welcome to visit us at any time.
Q: How shall we contact you?
A: You can send an inquiry directly, and we will respond within 24 hours.
Shipping Cost:

Estimated freight per unit.





To be negotiated
| | |
| --- | --- |
| Standard or Nonstandard: | Standard |
| Application: | Textile Machinery, Garment Machinery, Conveyer Equipment, Packaging Machinery, Electric Cars, Motorcycle, Food Machinery, Agricultural Machinery |
| Surface Treatment: | Chrome Plating |
Samples:

US$ 10/Meter

1 Meter(Min.Order)

|

Order Sample
Customization:

Available

|

Customized Request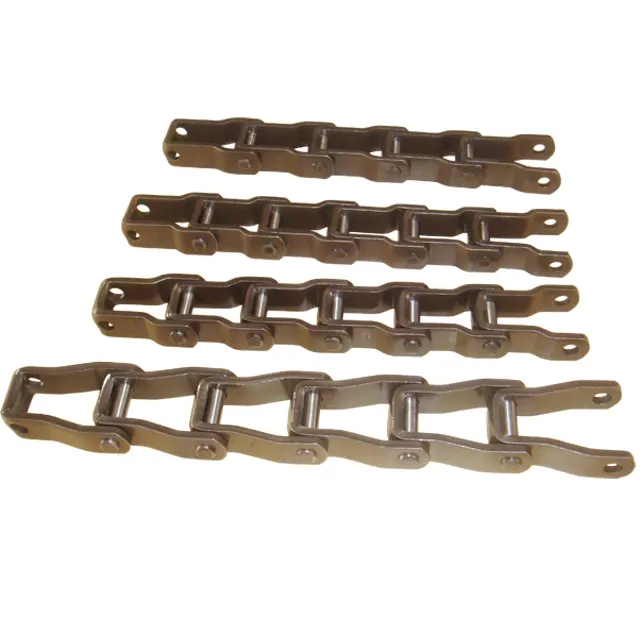 What are the noise and vibration characteristics of pintle chains?
Pintle chains generally exhibit low noise and vibration characteristics when properly maintained and operated within their recommended specifications. Here's a detailed explanation of their noise and vibration characteristics:
Noise Characteristics:
Pintle chains are designed with interlocking link plates and pins, which help reduce noise during operation. The engagement between the chain and the sprockets is smooth, minimizing the impact and noise generation. Additionally, the use of suitable lubrication can further reduce noise levels.
However, it's important to note that improper maintenance, such as lack of lubrication or worn-out components, can lead to increased noise levels. Regular inspection, lubrication, and replacement of worn parts are essential to keep noise levels in check.
Vibration Characteristics:
Pintle chains generally transmit minimal vibration during operation. The precision engineering and smooth movement of the chain components contribute to reduced vibration. Additionally, the use of high-quality materials and well-maintained chain systems can further minimize vibration.
Excessive vibration in pintle chains can occur if the chain is misaligned, worn, or not tensioned correctly. Regular maintenance and alignment checks are necessary to ensure optimal performance and to prevent increased vibration levels.
Applications:
Pintle chains with low noise and vibration characteristics are suitable for various industries, including material handling, forestry, agriculture, and more. In applications where noise reduction is crucial, such as in indoor environments or noise-sensitive areas, proper chain maintenance and lubrication become even more important.
Overall, pintle chains are known for their relatively quiet and smooth operation when maintained properly. Ensuring correct installation, adequate lubrication, and regular maintenance will help to maintain the desired noise and vibration characteristics, promoting efficient and reliable chain performance.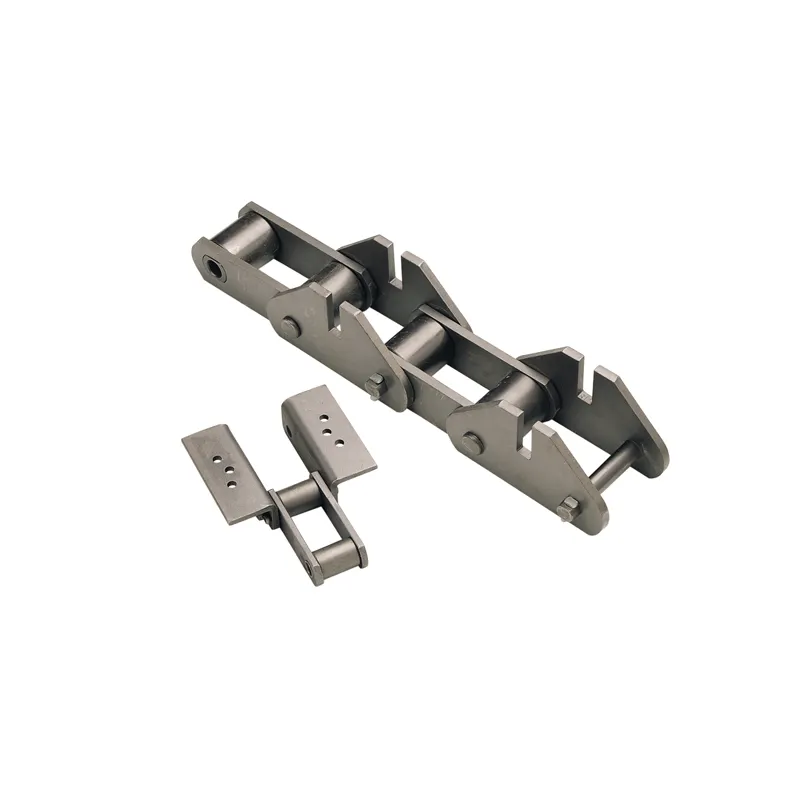 Can pintle chains be used in wastewater treatment and sewage systems?
Yes, pintle chains can be used in wastewater treatment and sewage systems for various applications. These chains are designed to handle heavy loads, continuous operation, and harsh environmental conditions, making them suitable for use in such demanding settings. Some of the specific applications of pintle chains in wastewater treatment and sewage systems include:
Conveyor Systems: Pintle chains are used in conveyor systems to transport solids, sludge, or other materials through the treatment process. They can handle heavy loads and resist corrosion, making them suitable for moving abrasive and corrosive materials.
Bar Screens and Rakes: Pintle chains are commonly used in bar screens and rakes that remove large debris and solids from wastewater. The robust design of pintle chains allows them to withstand the forces involved in pulling and lifting debris out of the water.
Clarifiers and Thickeners: Pintle chains are used in clarifiers and thickeners to help separate solids from liquid wastewater. These chains operate under high torque and slow speeds to ensure effective separation.
Aeration Systems: Pintle chains can be found in aeration systems where they are used to support and move diffusers or aerators that introduce air into the wastewater to facilitate biological treatment.
Sludge Dewatering: Pintle chains are utilized in sludge dewatering equipment, such as belt filter presses, to squeeze and remove water from sludge before disposal.
Scrapers and Skimmers: Pintle chains are employed in scrapers and skimmers that remove floating debris and scum from the water's surface in sewage treatment basins.
When using pintle chains in wastewater treatment and sewage systems, it is crucial to select the appropriate chain material and lubrication to ensure resistance to corrosion and chemical exposure. Additionally, regular maintenance and inspection are essential to prevent chain wear and ensure continuous and reliable operation in these critical applications.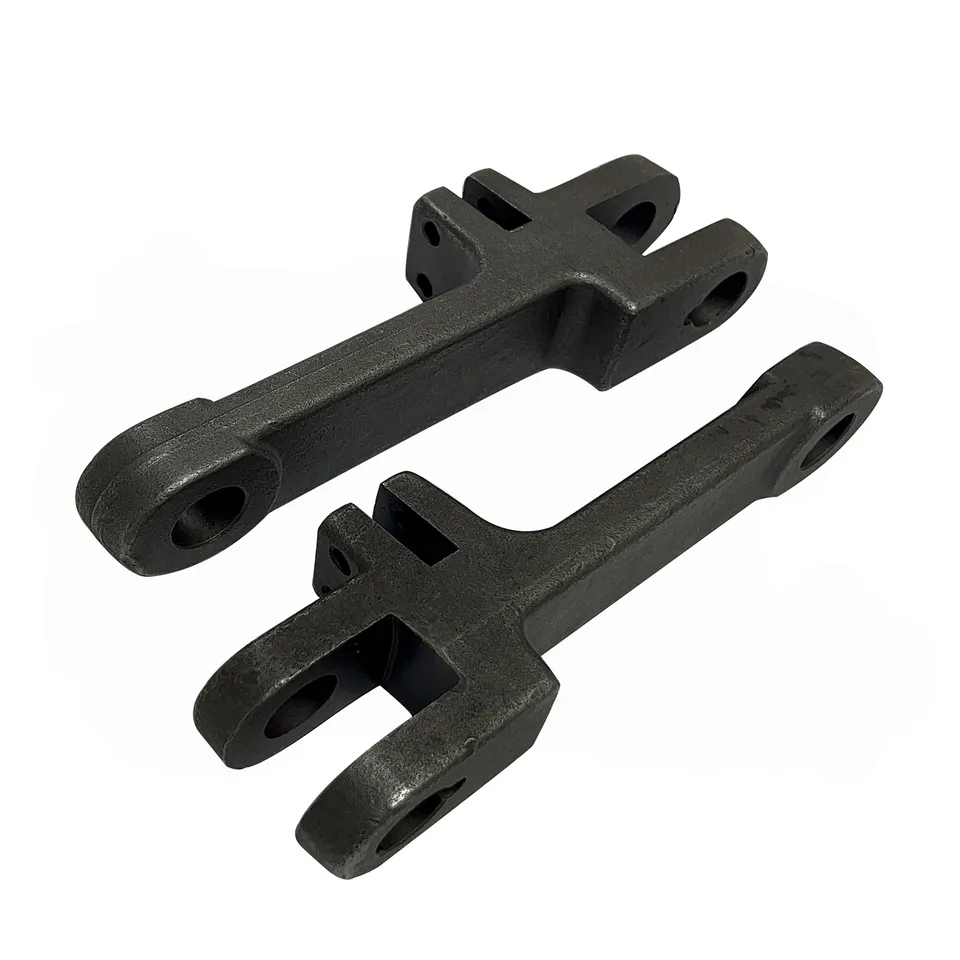 Can pintle chains be repaired or must they be completely replaced?
Pintle chains can often be repaired, but the extent of the repair depends on the level of wear or damage they have sustained. Here's a more detailed explanation:
Minor Repairs:
If the pintle chain has minor issues, such as a few damaged links, bent pins, or loose attachments, it may be possible to perform minor repairs. These repairs may involve replacing individual damaged links or attachments, straightening bent pins, or adjusting the chain tension.
Replacement of Components:
If certain components of the pintle chain, such as pins, bushings, or rollers, are excessively worn or damaged, they can be replaced individually with genuine replacement parts from the manufacturer. This can extend the chain's life and save on costs compared to replacing the entire chain.
Complete Replacement:
In cases where the pintle chain has suffered significant wear, elongation, or damage across its entire length, or if there are structural issues compromising the chain's integrity, it may be necessary to replace the entire chain. Completely replacing the chain ensures optimal performance and reliability.
Professional Evaluation:
It's essential to have a qualified technician or maintenance personnel assess the condition of the pintle chain to determine if repair is feasible or if replacement is the better option. They can identify the extent of wear or damage and recommend the most appropriate course of action.
Preventive Maintenance:
To minimize the need for extensive repairs or replacement, regularly scheduled preventive maintenance, including lubrication, inspection, and adjustment, is crucial. Preventive maintenance can help identify issues early on, allowing for timely repairs and avoiding further damage.
Conclusion:
In summary, pintle chains can often be repaired, especially if the damage is localized or minor. Replacement of individual components can also be done to extend the chain's life. However, in cases of extensive wear or damage, complete replacement may be necessary for optimal performance and safety. Regular preventive maintenance is key to identifying and addressing issues early, reducing the likelihood of major repairs or premature replacement.



editor by CX 2023-08-23